Making Precision Agronomy Work for You
We believe that precision agronomy needs to be a multi-layered approach, in order to accurately work for farmers.
Omnia Business Manager is an unrivalled precision agronomy system that analyses information from a variety of sources, to enable intelligent and informed decision making for the full range of variable applications. It enables grower and agronomist to work at sub-field level.
Using Omnia Business Manager
It's available for growers to either use themselves or as part of a bespoke service delivered in conjunction with an Omnia specialist.
The service is tailored to meet the growers' specific precision agronomy requirements.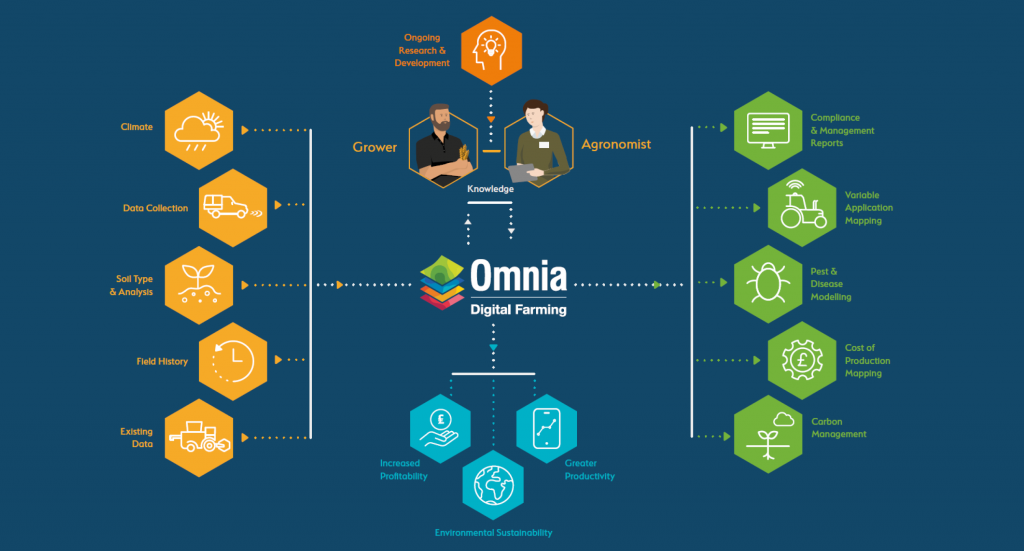 Variable Rate Application Plans
Using data alongside agronomist and grower knowledge, Omnia Business Manager can create variable rate application plans for:
Variable Nutrition
With the ability to create sub-field sampling, Omnia can tailor your nutrition application at sub-field level.
Omnia can compare historical grid and zonal sampling results with the most recent analysis collected in new management zones or areas of specific interest within a field.
Soil samples can be collected by the grower, as part of the Omnia service or by a third party and be automatically uploaded into Omnia software.
Chris Hoskins explains how Omnia can help growers to tailor the nitrogen input to the demands of the crop at a particular point of time in the growing season, together with insights from Andy Bason of Newhouse Farm and Jim Liddiard of Blackwood Farming Company.
Chris Hoskins outlines how Omnia's TerraMap can help get the most out of Phosphate and Potash, together with Andy Bason of Newhouse Farm and Jim Liddiard of Blackwood Farming Company.
Variable Seed
When trying to determine the appropriate seed rate it's important to take many factors into account.
Omnia allows you to have a different map for:
Soil type
Weed pressure
Seedbed condition
Slug pressure
Omnia is able to combine and analyse all these map layers using Multi-Dimensional Analysis, to create a new hybrid "pattern" that reflects all of the map layers used.
Omnia can use crop specific algorithms to determine the optimum seed rate for each area of the field, which is based on the drilling date, target plant population and the map layers data.
PCN Control
Potato cyst nematode (PCN) is the UK's most important potato pest capable of causing substantial yield losses.
Omnia allows historical PCN information to be compared directly with the most recent data, in conjunction with other data such as aerial photography. Growers can then devise a more targeted approach to the management of these distinct areas within the field.
Care should be taken when using precision farming techniques to apply chemical treatments only where PCN have been found.
There may be unidentified hotspots in the sampled unit, or PCN may be present but undetected between hotspots. Due to the random occurrence of PCN in a field, an absence of eggs in a sample does not guarantee PCN related problems will not occur. Omnia should act as part of an Integrated Pest Management approach to PCN control.
What People Say
"Omnia allows me to fine-tune and monitor everything that's happening. Anything that comes up, we can respond to in a short space of time."
"The Omnia software is very user-friendly and intuitive to use. Outside of the financial benefits, there are also environmental benefits, as we can prove we're only using particular insecticide products in high-risk areas."
Previous
Next