TerraMap produces the world's highest resolution soil maps
Mapping layers at over 800 data points per hectare, TerraMap (powered by SoilOptix® Technology) enables growers and agronomists to make the most of precision technology.
TerraMap high resolution soil mapping
TerraMap uses passive, gamma-ray detection technology, providing high-definition mapping of all common nutrient properties, pH, soil texture, organic matter, carbon and CEC as well as elevation and plant available water.
It measures naturally emitted isotopes, like Caesium and Potassium, that are very stable due to their long half-lives.
The significance of this methodology is that it is not affected by soil moisture, compaction, crop cover or cultivation state.
This means that there are very few limitations to when TerraMap can be used – offering a much wider operating window for soil scans compared to other soil scanning systems, and the consistency and reliability of the results from TerraMap are proven across many years and hectares.
Measures Four Naturally Emitted Isotopes
The TerraMap system uses gamma-ray detection technology to map all of the common nutrient and physical soil properties.
The scanner, which is manufactured by Canadian company SoilOptix measures four naturally emitting isotopes:
Caesium-137 (C)
Uranium-238 (U)
Potassium-40 (K)
Thorium-232 (Th)
800 Reference Points Per Hectare
TerraMap produces the highest resolution soil mapping layers in the world at over 800 data reference points per hectare.
In comparison, grid sampling map layers have only a single data point per hectare.
Soil Samples Taken and Data Processed
The in-field process of collecting the data is carried out in two very simple steps; scanning and collecting reference soil samples.
The raw scan, soil data and soil samples are then combined and processed to produce up to 27 high-definition soil property layers.
TerraMap Carbon
The first ever carbon mapping service to provide the most accurate baseline measurement of both organic and active carbon in the soil – TerraMap Carbon is revolutionising carbon mapping!
Why is it important to measure carbon?
While pressure to manage carbon is only increasing, as an industry UK farming is in a unique and enviable position as farming activities can make positive changes to carbon, which most other industries are not able to do.
However, this challenge comes at a time when the arable industry is facing great change in the light of the loss of basic farm payment, and many growers may well be questioning the importance or relevance of carbon management as potential profit margins are threatened.
But it's important to move away from seeing carbon footprinting as a burden or simply a tick-box exercise and see that this is beneficial, as a proxy measurement for efficiency and profitability of a farm as well as simply a measure of waste.
A reduced carbon footprint can only be achieved through more efficient fertilisers, different technologies, better soil carbon management or considering the energy used in storage, so it's a win– win on all levels.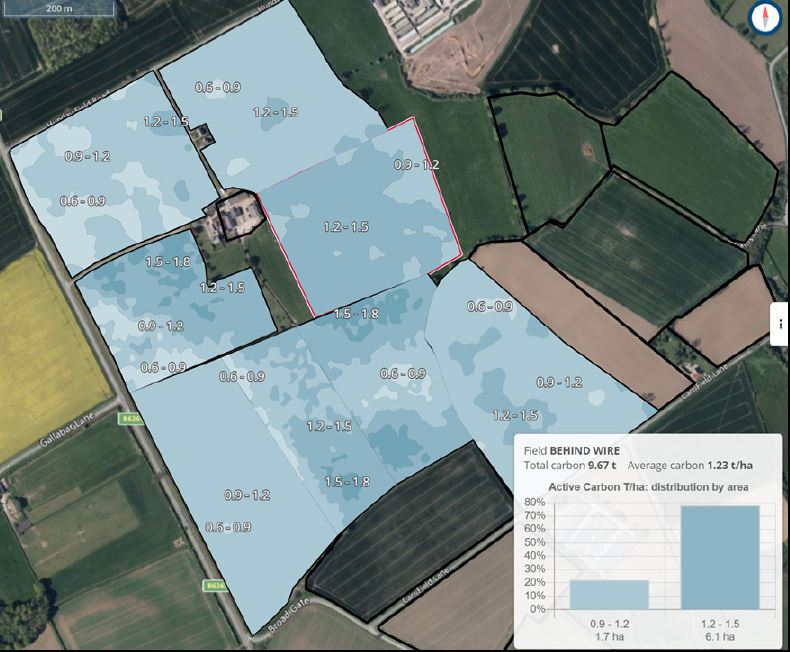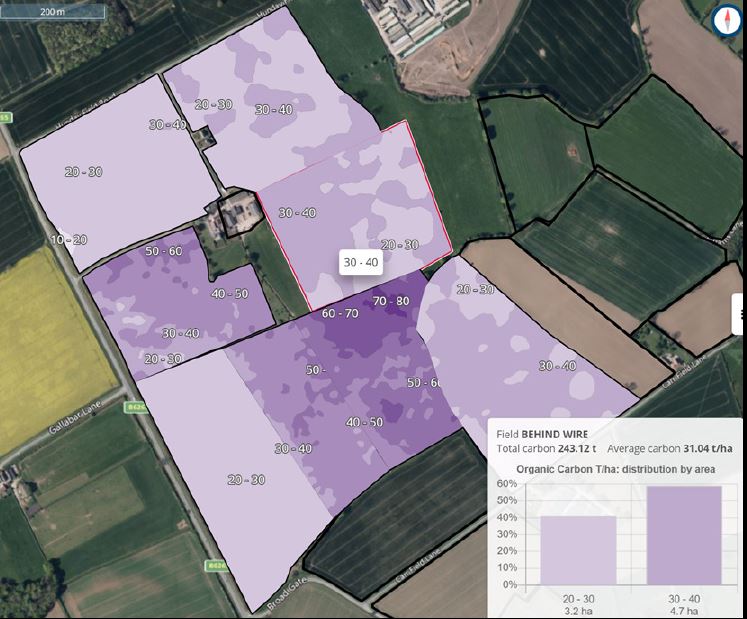 Organic Carbon – TerraMap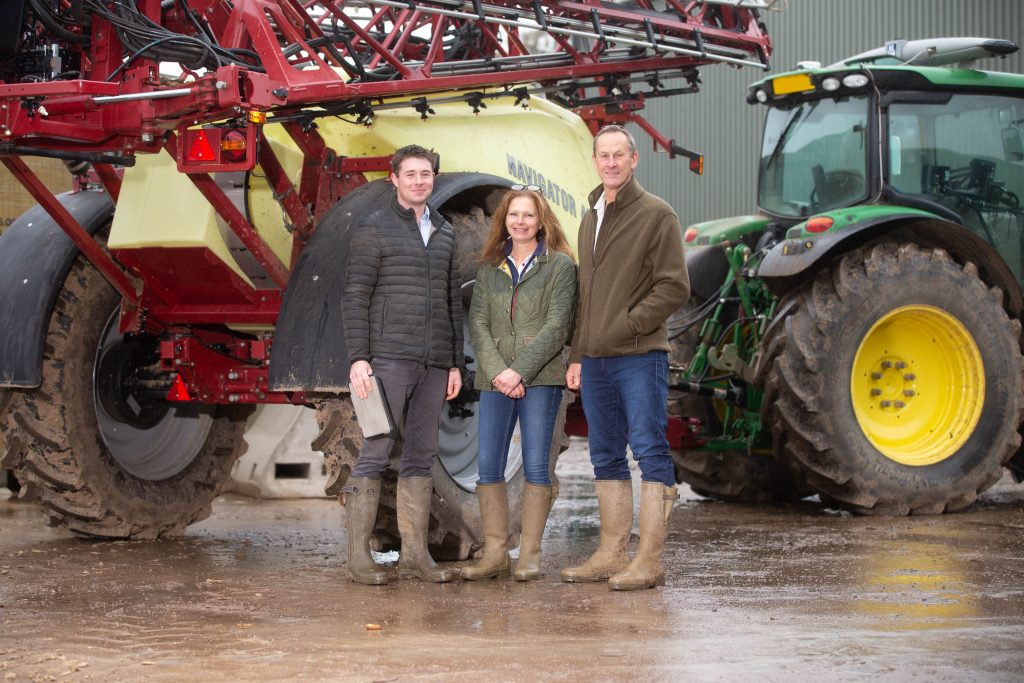 For Nick Wilson, the results of the TerraMap Carbon scanning showed up large differences in the carbon balance between the arable fields and permanent pasture, as you would expect. "The average across the arable fields was about 30t/ha of organic carbon and it was almost double that for the permanent pasture," he explains.
"Now that we have a baseline measurement, we can look not just how we can manage our processes to build carbon on the arable fields up to the levels of that of the pasture, but also to prevent any unnecessary losses of carbon. For example we would be interested to look at the impact of root crops on carbon. We will also use cover cropping to prevent having any bare land over winter and reducing loss this way." says agronomist Sam Hugill.
For Nick Wilson the bottom line is that he is a food producer, and managing carbon has to fit into that:
"We always look at what we do and how we can do better and carbon is a part of that – how much we do about it will ultimately be driven by policy – but whatever decisions we make on farm have to be good for us agronomically and economically in the first instance.
"It's all about adapting what we do rather than radical change- and being able to measure what we have is the first step."
TerraMap Gold
Analyse your actual soil reserves more accurately than ever before:
Understand your soil's ability to support crop growth
Detailed knowledge of why the soil behaves as it does
Better informed management decisions
TerraMap Gold links detailed soil analysis with high definition soil mapping.
Find full details HERE
There are 6 TerraMap services:
The Standard service measures 10 criteria:
P, K, Mg, pH
Clay%, Sand%, Silt%, Silt/Clay Fraction, Texture
Elevation
The Standard + OM service measures everything in Standard, plus:
The Premium service measures everything in Standard + OM, plus:
Cation Exchange Capacity, Elevation, Plant Available Water Index
Calcium, Manganese, Sodium, Boron, Copper, Molybdenum, Iron, Zinc, Sulphur
The Standard Carbon service measures everything in Standard + OM, plus:
Organic Carbon (% & t/ha)
The Premium Carbon service measures everything in Premium, plus:
Organic Carbon (% & t/ha), Active Carbon (% & t/ha), % of Carbon that is active
Producing 27 high-definition soil property layers.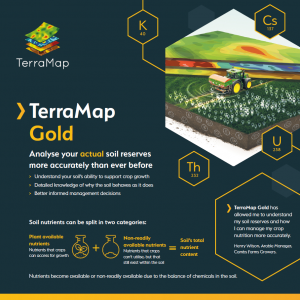 Analyse your actual soil reserves more accurately than ever before:
> Understand your soil's ability to support crop growth
> Detailed knowledge of why the soil behaves as it does
> Better informed management decisions
Download (1096 kb)
TerraMap is powered by SoilOptix® Technology
SoilOptix® and SoilOptix and Design® are the registered trade-marks of SoilOptix Inc. and are used under license.